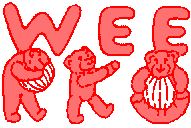 fitness fun with your little one
WEE WORKOUT is a parent and child participation program set in a mini-gym atmosphere. Our specialized developmental equipment offers opportunities for your young child to develop motor coordination and balancing skills. Because the building of a child's self image and social awareness is so important, we invite you to come and share with us.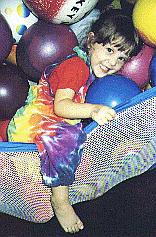 Baby Workout (3 months to just walking)

promote muscle tone
develop eye-hand coordination
encouraging and informative discussions

Toddler Workout (walking to 2 years)

practice balancing skills
learn to share and take turns
encourage climbing, swinging, jumping

Tot Workout (2 years to 3 years)

develop listening skills
challenge motor coordination
play verbal/movement games

Preschool Workout (3 years to 4 1/2 years)

stimulate imagination
strengthen social etiquette
develop jumping and rolling skills
With the use of songs, rhythm instruments, puppets and fingerplay, a wonderful large colorful parachute, all of our classes offer a group activity time with non-competitive goals and fun in mind.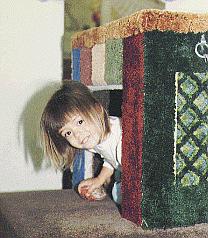 Day and Evening Classes
Our classes meet once a week for an hour. Please call us at (805) 528-6665 for our schedule of classes.

$35/month
Insurance $50/year
Ask about our unlimited make-up classes.
Special Rates for second and third children
registered at the same time as your first child.

Birthday Fun
WEE WORKOUT facilities are available for fun and exciting play and exploration. Playtimes, games and songs under professional supervision are included. Please call for special arrangements to meet your needs. WEE WORKOUT - a wonderful way to celebrate your child's birthday.
WELCOME TO A VERY SPECIAL LITTLE WORLD
2280 Sunset
Los Osos, California 93402