Toddler Workout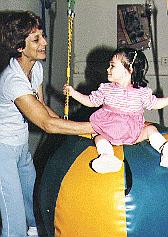 Toddlers are welcome at WEE WORKOUT.
Now that your baby is walking and learning to climb, WEE WORKOUT continues to offer your child opportunities to develop motor skills and social skills. Toddlers, especially, love to climb, so at our Center, parents learn how to help their child climb skillfully and safely. All the children's' activities are available to them and with special teaching techniques, Toddlers learn that it is fun to share and take turns graciously.
At Toy Time, children learn to take one toy at a time out and to put it back when they are through playing with it. While the child may play anywhere in the room, they quickly learn that the toys have boundaries and may only play on the mats. This is a very good introduction to 'limit setting' which ultimately helps children feel secure.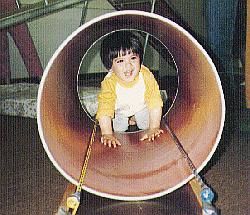 Parachute play and Bubbles continue to be enjoyed thoroughly, while the Air Log becomes a truly fun balance beam instead of something to be rolled upon. Parenting skills continue to be taught in Toddler Workout. These discussions seem to be a parent's "Lifeline to Sanity" as their children move into the ever dreaded "NO!" stage!
WELCOME TO A VERY SPECIAL LITTLE WORLD
2280 Sunset
Los Osos, California 93402